You can include an Evaluation Certification section at the end of the appraisal report to include experience statements and other certification information and sign the report with your signature.
This section is helpful for delivery of custom reports for BPOs or other non-GSE purposes.
The Evaluation Certification section is an option that can be enabled for any user account. Once set up, the section will be automatically generated at the end of the appraisal report.
Here are the key features:
You can upload your signature and use it to sign the report.

The signature section will automatically include the date of your signature.

You can export the report to PDF to send to clients. The certification section will appear on a separate page.

Once signed the report is considered "sealed" and will not be editable.
How to find and sign the certification section?
Step 1: Initiate an appraisal report and complete your analytics and value adjustments. Please see here for instructions on how to initiate an appraisal report.
Step 2: When you complete the report you will be on the Report Preview page. Scroll down to the end of the report to find the certification section.
Enter the values in the text box provided to add the signature in the report.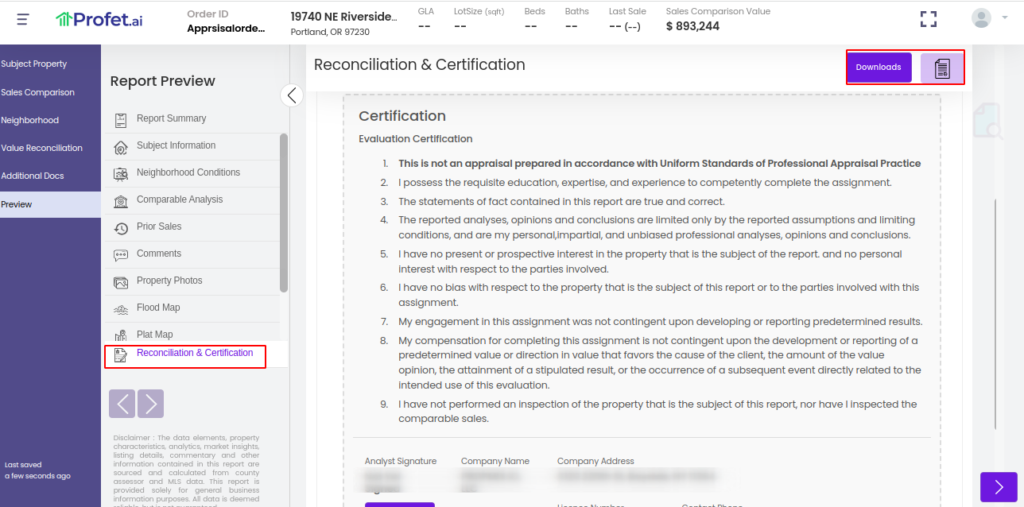 Step 3: Click on "Downloads and select your file format" when done.
The exported report will have a Reconciliation & Certification page with all the relevant details.
To access Reconciliation & Certification, the feature must be enabled for a company at the time of setup. Contact us at support@propmix.io to enable Reconciliation & Certification access for your account.